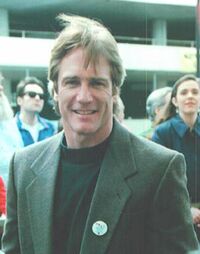 Barry Van Dyke (born July 31, 1951) is an American actor and the second son of actor and entertainer, Dick Van Dyke, and nephew of Jerry Van Dyke.
He has one older brother, Christian, and two younger sisters, Stacy and Carrie Beth. He is best-known to audiences as Mark Sloan's (played by Dick Van Dyke) fictional son and police officer partner, Lieutenant Detective Steve Sloan, on Diagnosis Murder, in which fictional relatives were typically played by real-life ones.
Related Links
Edit
Ad blocker interference detected!
Wikia is a free-to-use site that makes money from advertising. We have a modified experience for viewers using ad blockers

Wikia is not accessible if you've made further modifications. Remove the custom ad blocker rule(s) and the page will load as expected.