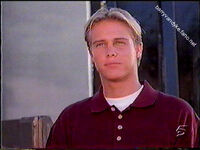 Alex Smith, the third year medical student at Community General Hospital who appears in roughly 14 episodes of the series.
He is also seen as a boxing student in Never Say Die and an actor in Frontier Dad. (Both these episodes star the rest of Barry Van Dyke's children also.)
Alex Smith was portrayed by Shane Van Dyke, the son of Barry Van Dyke, and grandson of Dick Van Dyke.